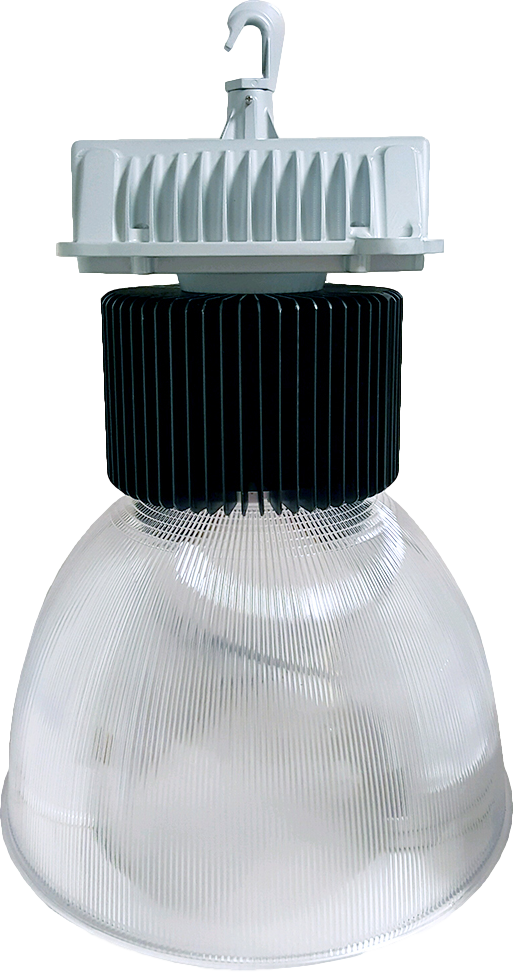 LED High Bay
Direct Retrofit for Antiquated HID Lamps
Both commercial and industrial

LED High Bay
- Design Elements
The LED High Bay is a high-efficiency retrofit for antiquated HID Lamps. Our 280W fixture is ideal in applications with ceiling heights above 30 feet; the 200W fixture is perfect for ceilings heights above 20 feet. Fortunately, we can say that this fixture will save you money because it is DLC certified which means you are eligible for rebates through your electric company. Not only are you saving your business money, you're making the world a more eco-friendly place.

The LED High Bay is
energy efficient
, which means you get to save money while also reducing your business' energy consumption – and that's good news for planet Earth!

This fixture offers an
excellent ROI
. The expected return on investment is typically less than 1.5 years.

Extruded Aluminum LED Heat Sink – dissipates heat from the LEDs electronics to
maximize thermal management and LED life
.

Easy Installation! The LED High Bay is equipped with a 3/4" NPT hook with pre-installed set screw which means
quick mounting
for you!

7 Year Limited Warranty
on our 280W Fixture at 40°C and 5 Year Limited Warranty at 50°C.

The LED High Bay is perfect for
ceiling heights above 20 & 30 feet
. Some applications include: processing plants, cold storage units, packaging plants, warehouses, manufacturing facilities, hangars, industrial facilities, sports complexes and gymnasiums.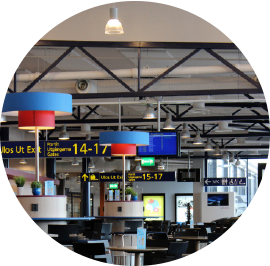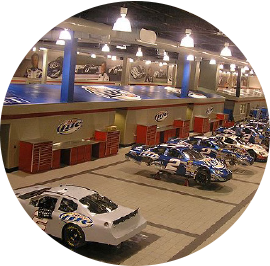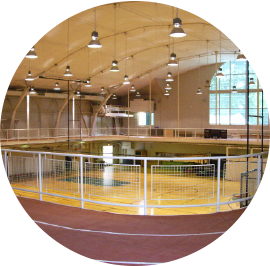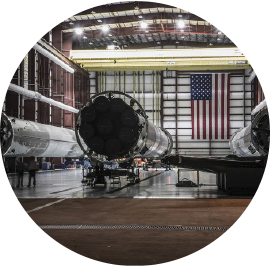 Processing Plants
•
Cold Storage Units
•
Packaging Plants
•
Warehouses
•
Manufacturing Facilities
•
Hangars
•
Industrial Facilities
•
Sports Complexes
•
Gymnasiums
Product Specifications
- LED High Bay
Watts:
200 or 280
CCT:
5000K
CRI:
80
Lumens Output:
30,000 (280W) or 24,000 (200W)
Power Factor:
> 0.9
L70:
>55,000
Operating Temperature:
-40°F to 122°F (-40°C to 50°C)
Universal Driver:
120V - 277V; 347V - 480V(+10W)
Dimming:
0V - 10V
Dimensions:
Aluminum Reflector - 18"DIA x 23"H
Dimensions:
Prismatic Reflector - 19"DIA x 27.5"H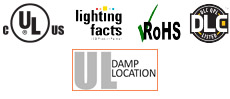 Ordering Information
- LED High Bay
Use part number configurator to build your model.
Wattage
Fixture
CCT
Reflector
Bottom Lens
Voltage
Controls
Whip
Plug
Rev
200= 200W
280= 280W
HB= High Bay
50= 5000K
00= None
AH= Aluminum HB
PH= Prismatic HB
AL= Aluminum LB
PL= Prismatic LB
LC= Cover*
NC= None
*Cover for PH & PL Only
VL= 120-277V
VH= 347-480V
A= Aisle
N= None
W= Area
06= 6ft Whip
00= No Plug
200HB5000NCVLN060002
Stock Models
Data sheets and IES files are listed for stock models below. All other versions are built to order.
| Part # | Description | Watts | Lumens | CRI | Hours | Volts | Diameter | Height |
| --- | --- | --- | --- | --- | --- | --- | --- | --- |
| 200HB5000NCVLN060002 | 200W LED Light Engine Only, 120-277V | 200 | 24,000 | 80 | 50,000 | 120-277V | 11.00 IN | 12.75 IN |
| 200HB5000NCVHN060002 | 200W LED Light Engine Only, 347-480V | 200 | 24,000 | 80 | 50,000 | 347-480V | 11.00 IN | 12.75 IN |
| 200HB50AHNCVLN060002 | 200W LED High Bay, Aluminum Reflector No Lens Cover, 120-277V | 200 | 24,000 | 80 | 50,000 | 120-277V | 18.00 IN | 23.00 IN |
| 200HB50AHNCVHN060002 | 200W LED High Bay, Aluminum Reflector No Lens Cover, 347-480V | 200 | 24,000 | 80 | 50,000 | 347-480V | 18.00 IN | 23.00 IN |
| 200HB50ALNCVLN060002 | 200W LED Aluminum Low Bay Reflector, 120-277V | 200 | 24,000 | 80 | 50,000 | 120-277V | 19.50 IN | 18.00 IN |
| 200HB50ALNCVHN060002 | 200W LED Aluminum Low Bay Reflector, 347-480V | 200 | 24,000 | 80 | 50,000 | 347-480V | 19.50 IN | 18.00 IN |
| 200HB50PHNCVLN060002 | 200W LED High Bay, Prismatic No Lens Cover, 120-277V | 200 | 24,000 | 80 | 50,000 | 120-277V | 19.00 IN | 27.50 IN |
| 200HB50PHNCVHN060002 | 200W LED High Bay, Prismatic No Lens Cover, 347-480V | 200 | 24,000 | 80 | 50,000 | 347-480V | 19.00 IN | 27.50 IN |
| 200HB50PLNCVLN060002 | 200W LED High Bay, Low Prismatic Optical, 120-277V | 200 | 24,000 | 80 | 50,000 | 347-480V | 16.50 IN | 18.50 IN |
| 200HB50PLNCVHN060002 | 200W LED High Bay, Low Prismatic Optical, 347-480V | 200 | 24,000 | 80 | 50,000 | 347-480V | 16.50 IN | 18.50 IN |
| 280HB5000NCVLN060002 | 280W LED Light Engine Only, 120-277V | 280 | 30,000 | 80 | 50,000 | 120-277V | 11.00 IN | 12.75 IN |
| 280HB5000NCVHN060002 | 280W LED Light Engine Only, 347-480V | 280 | 30,000 | 80 | 50,000 | 347-480V | 11.00 IN | 12.75 IN |
| 280HB50AHNCVLN060002 | 280W LED High Bay, Aluminum Reflector, 120-277V | 280 | 30,000 | 80 | 50,000 | 120-277V | 18.00 IN | 23.00 IN |
| 280HB50AHNCVHN060002 | 280W LED High Bay, Aluminum Reflector, 347-480V | 280 | 30,000 | 80 | 50,000 | 347-480V | 18.00 IN | 23.00 IN |
| 280HB50PHNCVLN060002 | 280W LED High Bay, Prismatic Optical, No Lens, 120-277V | 280 | 30,000 | 80 | 50,000 | 120-277V | 19.00 IN | 27.50 IN |